So next week one of my cousins is getting married (YAY!) and I'm soooo excited!  She asked me to do the great honor of being a bridesmaid in her wedding I'm so looking forward to it. The dress is so pretty and I'm sure she's gonna make a radiant bride 🙂 And yes…I'll have pics for the blog when I get back 🙂
But anywhoo, she wanted the bridesmaids to have a specific hairstyle and I realized that…I clearly don't have enough hair for that at the moment lol. So after much contemplation I decided to give clip-in extensions a shot!  Mind you, I have never had any extensions in my hair other than braids soooo….I had no idea what I was doing lol.  But i liked the idea of clip-ins because they seemed easy to install, remove, and style — at least from what I'd seen on YouTube vids anyway lol.
So I went to my local Beauty supply store and picked up the ONLY pack of clip-in extensions they had. First mistake lol.
Milky Way 100% Human Hair Clip-In Hair Extensions 7 Pcs – European Straight 14″
I got one pack, in the color 1 (Jet Black) which was perfect because I recently dyed my hair Jet Black for my birthday.  The length of the hair was 14″; it came with 7 pieces: one 10″ wide piece, two 7″ wide pieces, two 5″ wide pieces, and two 3″ wide pieces.
Now the reason I said "first mistake" is because, if there's one thing that YouTube has taught me in regards to weave/extensions is that in order for it to look good/realistic, you need to make sure the hair that you get is as similar to your original hair texture as possible.  Otherwise it'll not only look a mess (for lack of a better phrase), but you'll CONSTANTLY be applying heat to your hair in the form of a flat iron to get it to blend. No bueno.
My only saving grace for this rash decision is that I planned to curl my hair for the look my cousin wanted for her bridesmaids so THANKFULLY, blending wouldn't really be a problem.  But definitely, for future reference, If I wanted to wear the hair straight outta the pack without curling it, I would have to get a hair texture that wasn't so bone straight.
But yeah…on to the install.  I used this video by Megan from ulovemegz on YouTube to help guide me:
Prior to putting the clip-ins in, I sprayed my hair with heat protectant because I would be using a lot of heat on my hair.  I ended up using one 5″-wide piece at the nape (well not directly, I parted some hair and then placed that piece, it's easier to show than to tell..lol), then a 7″-wide piece, then the 10″ wide piece at the crown, the other 7″-wide piece, and then one of the 3″-wide pieces on the right front side of my head.  Again…it's easier to show than to tell.  If you guys are interested in me doing a tutorial I'll definitely give it a try, but it's pretty much exactly like what Megz did in her video except my part was on the left side of my head (mirror image in my pics tho…)
Anyways…after I installed the hair, I used my 1-1/4 inch Jilbere ceramic curling iron to just give the hair some…life lol.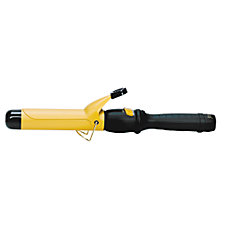 This is what it looked like at that point:
Not too shabby in my opinion…but still not great lol.  Then I began styling.  I used my Remington T-Studio Pearl Ceramic Curling Wand to make spiral curls all throughout the hair.  
I had it set to 375 deg I think….that's hot man.  But it got the curls in after only 10 seconds per section.  Then I only had to use one big bobby pin to pin my hair to the side to achieve this FABULOUS look 🙂
And the best part is…my cousin approves! Winning! lol
Hope you guys enjoyed this post and let me know if you'd like to see a tutorial on this look and I'll do my best to get that out for ya.
Love and God Bless,
– T