This was actually really hard because although I knew exactly what look I wanted to get (gold eyes with red lips) I wasn't quite sure how to put it together…or if it would even look that great together.  Remember, I am no make up guru.  I just do what I can.
So I took to youtube to see what I could find and after a LONG time searching I finally found the perfect look.  I really like it so I'm gonna use it as my inspiration (minus the false lashes and possibly without the winged out eyeliner).  This is a tutorial I found by BeautySplurge.  Yes we're different skin tones but I think it'll work out 🙂
As for the products, I'll be using the following.
EYES
– Urban Decay Eyeshadow Primer Potion in Eden
– NYX Jumbo Eye Pencil in Gold
– Assorted bronzes, golds, and browns from my Sephora Ultimate Blockbuster Palette
– Wet N' Wild Mega Eyes Creme Eyeliner in 886 (Black)
– Maybelline Volume Express The Falsies Mascara
LIPS
So this part I'm actually really excited about.  As many of my faithful readers may know, I recently bought my very first lipstick and I love it.  It's my go to shade whenever I put make up on for church or whatever.  But for this occasion I wanted to do something a little bit more daring; hence the red lip.  Now this too was a quest, definitely had to get the help of a make up consultant at Nordstrom's yesterday to kinda find a shade that I felt really went well with my skin tone.  And I really like this one a lot!  Definitely totally different and a little out of my comfort zone but hey it's gonna be 2011!!! lol  So here's the lip colour I picked out 🙂
LAURA MERCIER Creme Lip Colour in Truly Red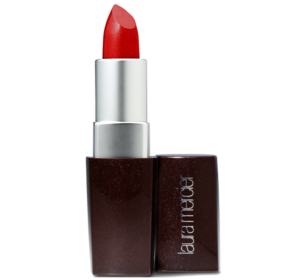 (warm orange-red)
Then I realized….I'd probably need a liner as per all the tutorials I've seen on Youtube.  So decided to go cheap and try one out that's a fave of one of my make up gurus on there, emilynoel83 of BeautyBroadcast.
RIMMEL London Exaggerate Full Colour Lip Liner Definer in Ravish
So yeah!  Excited to see how this all comes together.  And yes, I will do my very best to post pics of the final look for you all.
*DON'T FORGET TO:  1.  Click HERE to follow the blog and THEN 2.  Click HERE to enter for the BIG Giveaway once I reach 100 followers!*
As always,
Love and God Bless,
– T