So yeah this was definitely an accidental Weekly Wash.  See what had happened was…lol
I fell asleep last night with my coconut oil and saran wrap with my conditioning cap on my head, with full intentions of NOT sleeping in the first place, but actually doing my usual Friday night wash.  But yeah, my body said, "No Buddy!  Sleep time!"  So when I woke up this morning, with a head full of coconut oil, I was kinda blown and had to figure something out super quick.  Now, I really don't like blow drying my hair.  Firstly, because it never turns out the way I want it to, and second because I've been trying to avoid direct heat on my hair.  But, at this point I had no choice.  So here's what I did.
1.  Washed and conditioned my hair with my KeraCare products.
2.  DC'd with my Neutrogena Triple Moisture Deep Recovery Hair Mask.
3.  Put in ALL my leave-ins (CHI silk Infusion, Neutrogena Triple Moisture Silk Touch Leave-In Cream, ApHogee Keratin and Green Tea Restructurizer) and since I would be using heat on my hair, I added my Grapeseed oil and Silk Elements Megasilk Olive Heat Protectant Spray.
4.  Blow dried on High Heat, Low Power (I was in a rush yall…)
I was gonna stop there but my hair didn't look the way I wanted it to.  Soooooo….I decided to use my Jilbere de Paris ceramic curling iron that…I really haven't used since I bought it like…2 months ago.  At least not on my hair.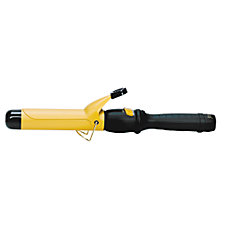 So I took that after I blow dried my hair and just put some big curls in my hair.  Then I pin-curled my hair, halfly (yes I know halfly isn't a word…I think…lol) so I could keep my hair outta the way while I did my make up…and other halfly to put my curls in the formation that I actually wanted them.  And here's the final results (taken with my new iPod Touch, VERY NICE photo quality!):
It turned out really pretty!  I'm impressed!  I think I could really use this as an alternative to flat ironing my hair from now on.  Don't you just love accidental discoveries?  LOL  Til next week 🙂
Love and God Bless,
– T