So this week I decided to go ahead and wash my hair with my KeraCare Hydrating Detangling Shampoo, condition with KeraCare Humecto Creme Conditioner, and did a protein treatment with my ApHogee Keratin 2 minute Reconstructor for the max of 5 minutes since I just got my hair relaxed last week (I tend to usually do that the wash the week right after to help build back up the protein in my hair; then I just go back to alternating between DC-ing and Protein treatment).  Then used the T-shirt drying method that I learned from Sunshyne of HairliciousInc.com as seen in the following video:
 Then I added my leave-ins (CHI silk infusion, Neutrogena Triple Moisture Silk Touch Leave-In cream, and ApHogee Keratin and Green Tea Restructurizer, along with a dime sized amount of my Grapeseed oil) and allowed my hair to air dry using the method in the following video, also from Ms. Sunshyne 🙂
I allowed it to air dry overnight.  Then this morning, I moisturized my hair with my Bioinfusion Olive Oil Moisturizing Lotion and massaged my scalp with the Jamaican Black Castor Oil and tried to be cute and put my hair in this little style lol.  A little twist on my regular bun, I liked it 🙂
So yeah, that's what I did with my air dried hair. 
Oh yeah, I ALWAYS get this question about how I get my bun to look so decent.  This is my secret weapon:
Hair Stylers Black Mesh Chignon (from Sally's Beauty Supply)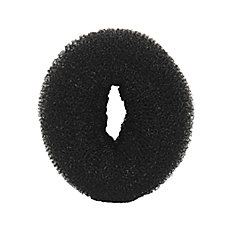 Love this bad boy!  Helps me make the perfect bun and is a great aid for a quick protective style; keeps my ends nice and hidden from the elements to prevent unnecessary split ends and what not.  Anyways!  Hope you guys liked this post and I will see yall at that next Weekly Wash! 🙂
Love and God Bless,
– T