Hey guys!  So what reminded me that I haven't done a make-up post yet was the fact that I ran out of my foundation and I actually have to go buy some more like….today lol.  Or pretty soon anyways.  So just gonna share with you guys my staple products as far as make up is concerned.
Oh another thing before I start, I'm not an everyday make up wearer.  I don't have time for that right now in my life lol.  It takes time to get it right (and definitely practice, I'm soooo still learning!  Thank God for Youtube!).  So I usually just wear make up for special occasions, church, or when I actually do have time.  Okay!  On to the goods!
***Disclaimer:  To the best of my knowledge, I have no affiliation with any of the companies associated with these products and have purchased them all with my own money.  I have no obligations to any of them; just sharing what's been working for me so far 🙂
FACE
Primer
So, I've learned from experience that for longer wear, especially for me because I have oily skin, and a smoother finish, it's important to prime my face before putting on foundation.  The two VERY important products I use are:
Phillips Milk of Magnesia/MOM (regular formula)


YES People!  I dunno if yall have heard, but this stuff is THE TRUTH as far as controlling oil and keeping shine at bay for longer make-up wear.  I can DEFINITELY ALWAYS see the difference from going with it and then going without it.  I usually put a bit into a squeezable travel sized container such as this: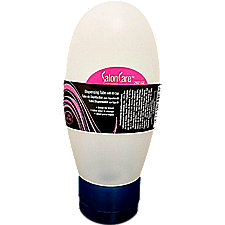 And then when I'm ready to use it I squeeze some of the MOM on a cotton ball and wipe it on to my face and let it dry for a minute or so before moving on to the next step which is:
Smashbox Photo Finish Light

This is pretty expensive, but it's one of the best primers I've used and it also helps control oil really well (yeah, yall I need all the help I can get…lol)  And the one I have has lasted me for….a good couple months so far and it's still not halfway done.  That could have to do with the fact that I don't use a whole lot and not very often.  Love this stuff.
Foundation
After priming my face, I move on to my foundation.  Now my quest for foundation has really been quite vast.  I've tried drugstore brands but those were too heavy, broke me out, and never really matched my skin tone too well.  So I wanted something gentler on my skin and I tried Bare Minerals.  Great for my skin, but not the coverage OR match to the skin tone that I wanted.  Then I started using PurMinerals.  Great coverage, great for my skin, but once again wasn't a close enough match for my skin tone for my liking.  FINALLY I decided to just give in and go to MAC and I'm quite happy that I did because so far, this foundation and I have not had any problems.  Good coverage, matches skin tone well, and doesn't make me break out any more than I usually do.
MAC Mineralize Foundation w/ SPF 15 in NW45


(the pic below shows the box but it isn't in my shade)

Powder
Once again, MAC is the truth.  Their Blot Powder comes in several different translucent shades.  It contains Mica and Silica which are minerals that can help absorb the oil your face may produce throughout the day.  This one is also THE TRUTH. 
Mac Blot Powder/Pressed in Deep Dark

 With all these face powers combined, if I wear make up ALL the day (as in put it on at 9 am and don't take it off probably til 9 pm that evening), I'll probably touch up my face ONCE, max twice if I'm feeling picky.  But that's just me.
Blush
I absolutely LOVE e.l.f. (eyes lips face) Cosmetics.  Besides the fact that their stuff is SUPER CHEAP (cha-ching!), the quality of their products (from blush to brush) is pretty good in my opinion.  My favorite blush comes from them:
e.l.f. Studio Blush in Blushing Rose

(Proceed to Part 2:  The Eyes and Lips)